Here you can find all courses available on ICA's Online Learning Platform:
To take advantage of them there are

3 options available to you!
If you are an ICA member, log in and choose any of our courses below at preferential rates!
If you are not a member and want to join us create an ICA member account here and purchase the course of your choice.
If you do not wish to become a member, you can create a guest account and then purchase the courses. But remember, you will not be able to benefit from our preferential rates.
Online Courses
Introduction to Records Management
The course is intended for anyone who needs to learn the basic requirements for managing records in government, business or not-for-profit organisations to meet legal obligations and help protect the rights and entitlements of citizens, employees and stakeholders. It specifically aims at the beginner and intermediate levels of participant/practitioner as defined in the ICA Training Programme Subject Matter Framework.
Also available in French
Duration : 20 - 30h
Level : Beginner / Intermediate
Non-member rate : 100,00 €
Member rate : 80,00 €
Understanding and Using the Universal Declaration on Archives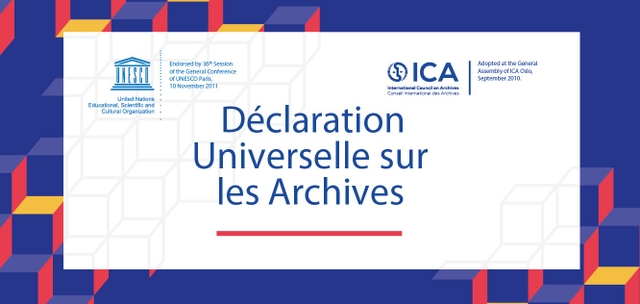 This course is about the Universal Declaration on Archives, the story of how it came into being, what it is all about (including an introduction to the principles and concepts of archives and records management) and how it can be used for advocacy and evaluation work. It is intended for a wide audience, both those working in archives and records management and those with little or no knowledge of the field.
Also available in French
Duration : 10 - 20h
Level: Beginner
Special Offer : 50,00 €
Non-member rate: 100,00 €
Member rate : 80,00 €
Organising Family Archives

The course is intended for the general public, no prior knowledge of using or working in archives is necessary. If you have collected or inherited papers and photographs that document your family and want to ensure that they can be understood and used by future generations, this is the course for you.

COURSE AVAILABLE ON 5 JUNE

Also available in French
Duration : 6h
Level: Beginner
Special Offer : 50,00 €
Standard rate: 75,00 €
Downloads
Download | 217.01 KB | Type : PDF | Language : English